The standard Android behaviour is this: if an application has translations to different languages, the correct translation is picked up when the app starts - according to the language of the phone. But sometimes we want to allow user to change language when the application is running. The provided solution does it with help of a trivial

Preference

which is stored in

SharedPreferences

. That:

1. Switches to another language immediately when user selects it in the Settings screen.

2. Causes the app to be open in that language next time.

You will create the Settings (Preferences) screen with the Language Preference, which will be looking something like that (of course, you can add more Preferences to that screen):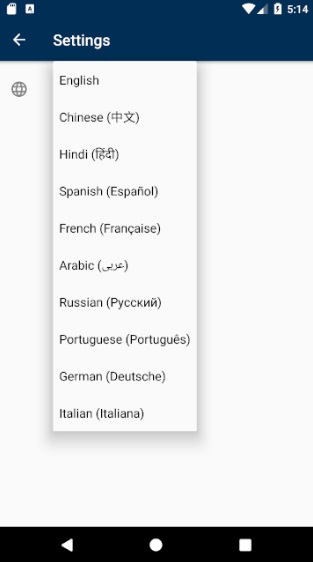 Sounds good? So, you need to



DO THE FOLLOWING STEPS:



@ Create application Settings (Preferences) screen. For that, do all the steps, described here.

@ Add to your values\strings.xml:


@ Add similar entries to strings.xml of each language. I will use Russian as an example. So, add the following fragment to

ru

\strings.xml (you need to translate also the word "Settings", added to values\strings.xml when you were creating the Preferences screen in the first step):


Pay attention, that each entry in the languages drop down list contains the language twice:

1. In the current language of the application.

2. In that language itself (so, if user switches to a language with absolutely different alphabet (or hieroglyphs), he/she will be always able easily restore her/his language).

The only exception - the current language of the application: it will appear only once. It doesn't make sense to display "English (English)" or "Русский (Русский)".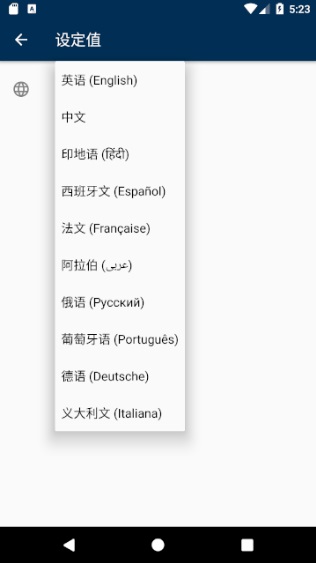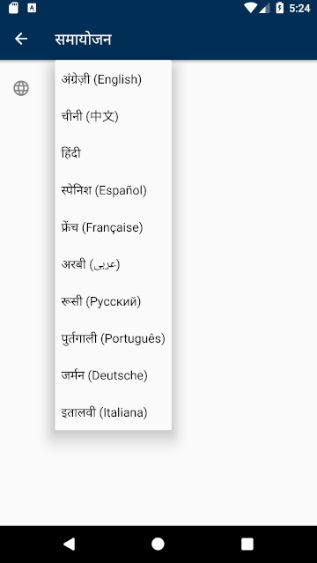 @ In the "util" package, create object

AppPrefs

. Copy-paste its source code from here.

@ In the "util" package, create interface

ConstantsSet<T>

. Copy-paste its source code from here.

@ Create "constants" package, if you don't have it yet - it's a package to store constants (standalone or packed into objects or enums).

@ In the "constants" package, create object

Lang

with the following code:


@ In your "util" package, create the

LocaleHelper

object:


@ In your "util" package, create the

AppCompatActivityWithLangByPref

class. It will be the direct ancestor of all the Activities in your app (instead of

AppCompatActivity

):


@ Open class

PrefActivity

(created in the first step) and make it inherited from

AppCompatActivityWithLangByPref

(instead of

AppCompatActivity

). Don't close it - go to the next step.

@ Add the globe icon. It will be shown in the language selection Preference. If the Settings screen has many Preferences, and user selected a language with a not-understandable writing, that icon will give a clue that it's the "Language" setting.

Steps to add the globe icon: right click the

res/drawable

folder > New > Image Asset > In "Icon type" select "Action Bar and Tabs Icons > In "Name" type "icon_globe" > Click "Clip Art" > In the search bar type "lang" > Click the Language icon > OK > In "Theme" choose "HOLO_LIGHT" > Next > Finish.

@ Go to

PrefFragment

(created in the first step) and change its whole code to the code provided below. If you reused your old

PreferenceFragment

(rather than created

PrefFragment

as the first step suggested), than add to it all the stuff related to languages switch (the DropDownPreference for language and the processing in onSharedPreferenceChanged):


Obviously, if your app has more settings, add them to onCreatePreferences() as well.

@ When you create Activities, always inherit them from

AppCompatActivityWithLangByPref

(instead of

AppCompatActivity

). Now I will use MainActivity as an example - copy-paste and customize: